Shop live houseplants— direct from the greenhouse to you.
Lifetime plant support always included.
Eco-friendly, plastic-free, carbon-neutral, and woman-owned— so your green choice makes a difference.
the greenest greenery.
About Outside In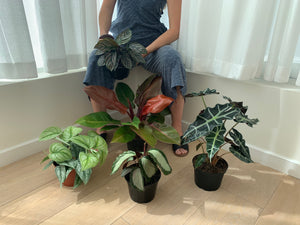 Our core values revolve around sustainability, mindfulness, and quality.
Featuring tropical houseplants, Outside In focuses on delivering greenery to plant lovers across the US. The goal is to connect people with the best, healthiest, most unique plants— all while using the most eco-friendly practices possible.
Based in south Florida, we source the highest-quality product from local growers. Specifically, we choose nurseries that also hold themselves to eco-conscious standards and ethics. This ensures that your plant has experienced the utmost mindful care. Simply shop online from our beginner, pet-friendly, or rare plant collections.
Read more about our Mission as well as our Policies & FAQ's.
Happy Customers
I am so happy my heart is going so fast.  Your service is so amazing, you took such a great care of my plant and packed like it was a fragile baby and no leave was damaged.

Rosa (Alocasia Polly)
I am an avid house plant collector and have over 175 plants. Ive ordered from all over and I have to say out of all the plants I have received in the mail this plant was one that was packaged very carefully and with so much care. Thank you so much! 

Jessica (Silver Satin Pothos)
I received my order and I am so extremely happy with it. I ordered a lot of plants and you have the best package and care for the plants.

Tyeneshia (Stromanthe Triostar)